Born in the Democratic Republic of Congo, KING FIRE (Daniel Vita Isakongo) is a guitar virtuoso of Soukouss (Central African music).
Bringing to life this powerful, rhythmic music, he and his band present a spiritually up lifting show which also includes Latino, Reggae, Dub, Pop and Rock.
Daniel has performed, not only in the Congo but also Namibia, Angola, Mozambique and even Brazil. His current band perform at events throughout the UK and include private parties, art festivals and tours.
They are complete with their own PA and lighting systems and also include cultural decorations with flags and banners.
The passion, rhythm and joyous melodies of their music will give your guests a wonderful time. As Daniel says "Audiences are truly bombed – and they always want more. And we'll give them more."


Book NOW
concerts, festivals and private events.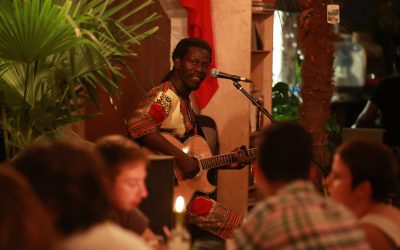 Abdoulaye Samb is a Senegalese songwriter who warms audience's hearts with his sincere performances and energetic live shows. Along with his band Minnjiaraby, they create a refreshing blend of traditional Senegalese music and European influences inspired by Fula and...
read more